Wrestlers Who Were Never A Babyface In WWE: Baron Corbin, Bull Nakano, Gunther, Jazz, King Kong Bundy, Rick Rude, Sensational Sherri, Shayna Baszler, The Iron Sheik and Zelina Vega
---
Throughout the history of professional wrestling, babyfaces and heels are in place to separate the good and bad guys. In WWE, there have been several wrestlers who have been babyface and a heel with contrasting results. The likes of Triple H, Shawn Michaels, Randy Orton, and Bret Hart are some of the all-time greats who have been a babyface and heels. However, some competitors have been true to their character as a heel and have never been a babyface.
Some wrestlers are good at garnering heat from the WWE Universe that it would be hard for fans to get on board and like them if they turned to face. Nevertheless, these villains have done a superb job throughout their WWE careers which is why they have never needed to have turned face.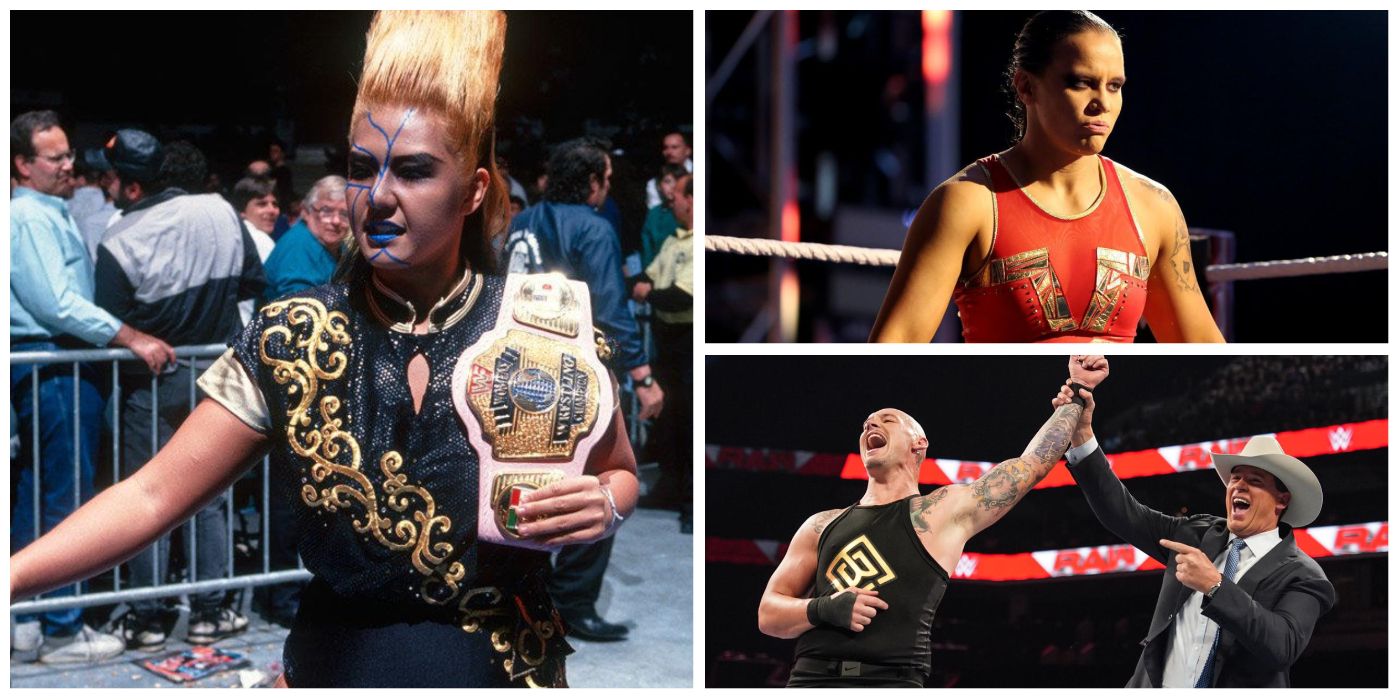 Here are the 10 Wrestlers Who Were Never A Babyface In WWE
Baron Corbin
Fans love to boo a heel, and Baron Corbin is arguably the most hated heel on the roster. He's been cast as Happy Corbin, Constable Corbin, and King Corbin, and with all of those gimmicks, he has received a chorus of boos, which illustrates how well he plays as a heel.
Corbin isn't the best in-ring competitor but he moves well for a man of his height. Currently, WWE Hall of Famer and former WWE Champion John Bradshaw Layfield is his manager and JBL received a lot of heat during the prime of his career. Don't expect Corbin to turn face shortly with Corbin being at his best as a heel.
Bull Nakano
Bull Nakano was brought into WWE from her time in Japan, and she was immediately involved in a feud with Alundra Blayze who was the WWE Women's Champion in the summer of 1994. Nakano had Luna Vachon by her side, and Nakano was an outstanding wrestler.
Nakano and Blayze had excellent matches together and Nakano being the heel, was the aggressor in their matches. She failed to beat Blayze for the title at SummerSlam, but she got over the line in front of her hometown fans in Japan. Nakano held the Women's Championship for five months and she shortly left WWE thereafter in 1995 with Nakano cast as a heel for the entirety of her run in the company.
Gunther
Gunther is one of the most hard-hitting wrestlers that WWE has at its disposal. The longest-reigning NXT UK Champion in history at 870 days has thrived as a heel. Especially with Ludwig Kaiser and Giovanni Vinci by his side as Imperium, the trio is a formidable force with their brilliant in-ring skills.
Gunther is the reigning Intercontinental Champion, and his battles with Sheamus have been nothing short of extraordinary with a lot of physicalities. It remains to be seen if the 35-year-old will be a babyface in the future, but for now, Gunther is showcasing his best as a heel.
Jazz
At Survivor Series 2001, Jazz made her WWE debut in the six-pack challenge for the WWE Women's Championship. Three months later, Jazz won the Women's Championship for the first time in her career. Jazz was an aggressive heel, and whilst her mic skills were not always up to scratch, she came across well as a heel.
Jazz has had her fair share of injury problems but her feud with Trish Stratus made her detested. Jazz won the WWE Women's Championship twice by beating Trish both times for her title reigns. Jazz had Teddy Long as her manager for a short while before another injury setback, but Jazz is a trailblazer and she paved the way for the likes of Naomi and Bianca Belair to follow in her footsteps.
King Kong Bundy
King Kong Bundy is one of the heaviest wrestlers to grace a WWE ring. He was a monster heel, and Bundy challenged Hulk Hogan in the first WWE Championship match to take place at WrestleMania 2 inside a solid steel cage.
Bundy joined Ted DiBiase's Million Dollar Corporation in 1994, and he had little success in the group. Bundy never had a run in WWE as a babyface, and he was comfortable being cast as a heel in WWE. He shortly departed the company after he lost to The Undertaker at WrestleMania 11.
Rick Rude
Rick Rude was a member of the Heenan Family, and he was a natural heel as he was cocky with his good looks which caught the attention of females in the crowd. The Ravishing One was the total package as he could speak on the mic, and his in-ring skills were magnificent.
He always brought out the best in The Ultimate Warrior, who wasn't a good in-ring competitor. Rude beat Warrior for the Intercontinental Championship at WrestleMania 5, and he was a member of D-Generation X for a brief while in 1997 before he left the company after the Montreal Screwjob at Survivor Series 1997. Having Heenan by his side, they were a good double act as they were natural heels and were hated by many.
Sensational Sherri
The Sensational Sherri is one of the greatest female heels of all time. Sherri wasn't just one of the best managers, she was a good wrestler. It's easy to forget that Sherri held the Women's Championship for over a year as her managerial career was arguably better than her wrestling career.
Sherri has managed the likes of Randy Savage, Shawn Michaels, and "The Million Dollar Man" Ted DiBiase during her career. Sherri could speak on the mic and fans would salivate whenever she would have her comeuppance.
Shayna Baszler
Former two-time NXT Women's Champion Shayna Baszler hasn't always had a smooth run on the main roster, but the Queen of Spades is a force to be reckoned with. Baszler is from an MMA background, and she is not one woman to mess with, which is why her run as a heel has been fantastic.
Baszler won the WWE Women's Tag Team Championships twice with Nia Jax, but she is yet to clinch the Raw or SmackDown Women's Championship. Baszler is a superb in-ring competitor, and her aggressive style inside the ring matches her personality as a heel.
The Iron Sheik
The Iron Sheik is one of the greatest heels in WWE history. In the early '80s, Sheik's Camel Clutch submission hold was a debilitating finisher as he incapacitated his opponents with it. Sheik ended Bob Backlund's five-year run with the WWE Championship on Boxing Day in 1983.
Sheik played a huge part in wrestling history as he dropped the WWE Championship to Hulk Hogan in January 1984 which kickstarted the euphoria of Hulkamania. Sheik is a lifelong heel and he doesn't mince his words on his Twitter account either.
Zelina Vega
Zelina Vega may be one of the shortest wrestlers on the main roster, but she packs a punch inside the ring. Vega is a superb talker on the mic and she is easy to hate. Especially when Vega won the Queen's Crown tournament, she was repackaged as Queen Zelina. She held the WWE Women's Tag Team Championship with Carmella which added fuel to the fire with both women as heels.
Vega underwent a seven-month hiatus after she had surgery due to sustaining an injury. However, on the October 7, 2022, edition of SmackDown which was the Season Premiere, she replaced Elektra Lopez as a member of Legado Del Fantasma. Vega is still only 31 years of age, and there is plenty more to come from her.
10 Wrestlers Who Were Never A Babyface In WWE
Get All the Breaking WWE News and Rumors, WWE Results, and Live Updates. Also, Get Professional Wrestling News. Follow TrendsNews on Google News, Facebook and Twitter to Stay Updated with WWE News